February 25th, 2013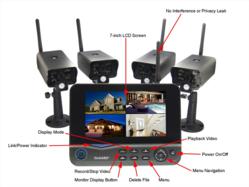 Atlanta, GA (PRWEB) February 25, 2013
A recent article published by ABC7 News* proves that simple home surveillance technology can be the difference between whether or not a thief gets away with a crime. A man in Oakland, CA was caught on home surveillance cameras stealing a package left on the doorstep of a residence. The local police department believes they have a positive identification on the suspect thanks to cameras mounted outside the home.
Home and business owners are faced with the challenge of protecting themselves, their property, and those close to them on a daily basis. For many of these individuals, the costs associated with installing and maintaining effective surveillance systems are just too much to bear. Most surveillance solutions require professional installation that can easily turn messy when wires are run through walls, floors and attic space. With ever changing technology, wired surveillance systems can become obsolete and quickly leave the customer scratching their heads wondering why they bought the system in the first place.
Global Security Experts, Inc. introduces an alternative, the OnGARD Walk-About do it yourself surveillance system. The OnGARD Walk-About Wireless Surveillance System is a DIY portable surveillance system that allows homeowners to easily and conveniently keep an eye on their property without the professional setup or cost. The system consists of four indoor/outdoor wireless broadcast cameras (mounting hardware included) and one 7 LCD color monitor with built-in wireless video/audio receiver and DVR. The wireless cameras are easily installed indoors or outdoors requiring nothing but a power source. The LCD color monitor can be viewed in any room with an AC outlet and homeowners can view all four or any one of the cameras setup on their property. A parent is able to prepare dinner, fold laundry, or even sunbathe, while keeping a protective eye on their family and property. Our system provides affordability, convenience and state of the art security in a box, says Security Sensei Jordan Frankel. Users also have the ability to view video during the day and night with the built-in night vision aid. The range on the night vision recording feature is about 15 feet.
The OnGARD wireless surveillance system is equipped with a built-in digital video recorder (DVR) which records in a variety of modes including manual, schedule, and motion activated. The cameras built-in motion sensors provide home and business owners with the comfort of knowing that the built-in DVR is recording potential criminal activity. Users have the ability to view the audio and video real-time using the LCD monitor or via the built-in DVR. The OnGARD security system stores the audio and video on an optional SD card (up to 32GB) for those looking to record surveillance.
A common worry amongst home and business owners with some wireless surveillance systems is that the signal will be picked up by a third party, creating security vulnerabilities. The OnGARD Walk-About system has taken this into consideration and provides its users with total privacy through a secure signal. The type of digital wireless signal transmission is known as FHSS-Frequency Hopping Spread Spectrum. This type of signal is highly resistant to deliberate signal jamming, as it generates a channel hopping sequence using a sophisticated algorithm generated by the receiver system.
The OnGARD Walk-About can be purchased right now on the Global Security Experts website. It is the perfect fit for the home or business owner looking for a cost-effective, portable, DIY wireless security surveillance system that does not compromise quality or safety for affordability.
*http://abclocal.go.com/kgo/story?section=news/local/east_bay&id=9000518
Filed under
Art Wall
| Tags:
Burglaries
,
Camera
,
Designed
,
Experts
,
Global
,
Help
,
Inc.
,
Introduces
,
OnGARD
,
Recent
,
Security
,
Surveillance
,
System
,
Thwart
,
Upswing
,
WalkAbout
,
Wireless
|
Comment (0)
February 6th, 2013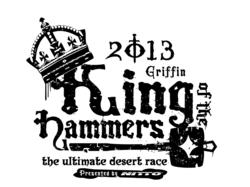 Cypress, Calif. (PRWEB) February 06, 2013
Nitto Tire returns again this year as Presenting Sponsor and sponsor of six topnotch off-road racing teams for the grueling seventh running of the Griffin King of the Hammers Presented by Nitto Tire on Fri., Feb. 8, 2013. The tough 4×4 race will be the culmination of this years week-long event billed as the most impressive to date with an expanded vendor show, additional entertainment and improved spectator areas.
The Ultimate Desert Race set in Californias rugged Johnson Valley northeast of Los Angeles pits expert drivers and finely tuned vehicles against the areas sand, hard-packed rock trails, near-vertical rock walls and treacherous ledges in breathtaking, all-out, high-speed runs. There is nothing like the excitement of off-road action at this level that takes its toll every year with less than half of the participants typically finishing the race. The event has evolved from 12 teams racing for bragging rights and a case of beer to more than 150 teams competing before thousands of fans both live and online.
Nitto has made an equally aggressive commitment to this signature Ultra 4 racing event as the Presenting Sponsor as well as sponsor of six racing teams for the event. That impressive roster includes 2012 Ultra 4 series champion Nick Nelson, 2010 King of the Hammers Champion Loren Healy, 2009 KOH Champion Jason Scherer, as well as Cottin Rodd, the groundbreaking first female Ultra 4 competitor. The Nitto sponsorship also includes the striking championship rings for the winning driver and co-driver.
Nitto-sponsored teams, running on Nitto Trail Grappler K-Spec tires, for this years King of the Hammers competition include:

Filed under
Wall Art
| Tags:
Challenge
,
Championship
,
Consecutive
,
Hammers
,
Inc.
,
King
,
Nitto
,
OffRoad
,
Returns
,
Second
,
Sponsor
,
Teams
,
Tire
,
U.S.A.
,
Vying
,
Year
|
Comment (0)
November 18th, 2012


Irvine, CA (PRWEB) November 13, 2012
We invite the media to join us for a casual cocktail party to celebrate the grand opening of Equus Products, Inc.s new Irvine headquarters, as well as the companys 30th anniversary of automotive innovation and excellence.
Equus staff members will be collecting non-perishable food items at the door from guests who have been invited to bring goods in support of the Orange County Food Bank, which will be providing more meals than ever to Orange County families in need during the upcoming holidays.
The evening will feature cocktails and tequila tasting by Tres Sietes and heavy hors doeuvres (courtesy of A Restaurant and POSH Events), facility tours, and demonstrations of the companys top-selling automotive diagnostic tools, ribbon cutting ceremony, raffle and more. In addition, classic Roadsters will be on display and a few of the latest models will be available for hands on viewing courtesy of Tuttle Click Chrysler.
Equus CEO Ieon C. Chen, and company representatives from every department from product development to shipping to Automotive Service Excellence-certified technical support teams, will be on hand for media interviews, product demonstrations and photo opportunities.
When:
Filed under
Wall Metal Art
| Tags:
Celebrate
,
Equus
,
Headquarters
,
Inc.
,
INVITATION
,
Invites
,
Irvine
,
MEDIA
,
Move
,
Products
,
StateoftheArt
,
SustainablyDesigned
,
Their
|
Comment (0)